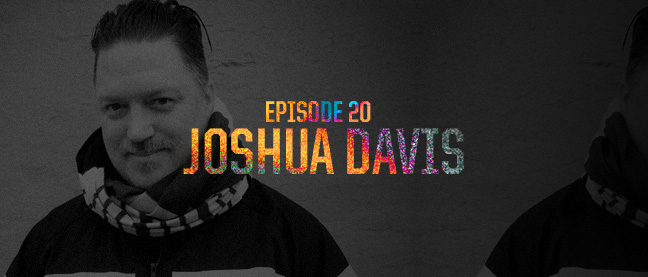 Nov 25, 2014
Episode 20! Artist, designer, and technologist Joshua Davis joins Chuck to talk about life, work, changing technology, and everything from his earliest beginnings to his latest endeavors. Josh is truly one of the pioneers of digital art and a huge influence on an entire generation of artists. Josh and Chuck have known each other for about 10 years but this is the first time they've ever really kicked back and just talked in a non-client-project capacity, and it was a lot of fun. Friendly disclaimer: More swearing in this episode than usual. Hell yeah.
Listen Now
Oct 8, 2014
Timothy Saccenti is a photographer & director from NYC who has worked with some of the most acclaimed musicians around today such as Flying Lotus, Pharrell, Depeche Mode, and Animal Collective, among many others. On episode 19, Timothy joins Chuck to discuss his photography, directing, the challenges that come with constantly changing budgets and concepts, and staying creative in the internet age as nothing ever seems to stay the same in the world around us.
(Listen Now)
Sep 16, 2014
Joel Flory & Greg Lutze are the co-founders of VSCO, an art and technology company that has earned the respect and praise of photographers and artists around the world for the tools, services, and communities they have created. In episode 18, Joel & Greg speak with Chuck about their individual backgrounds, the inception of VSCO, the creative challenges along the way, their VSCO Artist initiative - a scholarship fund for artists, and what they hope to do with the bright future of their company.
(Listen Now)
Sep 10, 2014
Ryder Ripps is a NY-based conceptual artist & creative director. He joins Chuck on episode 17 to talk about the work he does with his agency OKFocus, his wildly creative and prolific personal projects & art, his obsession with keeping lists of ideas, and much, much more.
(Listen Now)
Jul 6, 2014
Brandon Stosuy is the senior editor and director of events for Pitchfork.com as well as one of the founders of the acclaimed Basilica Soundscape Festival, a 2-day music and arts festival in upstate Hudson, NY. Brandon talks with Chuck about his life in music and journalism as well as his role in Pitchfork.com, reviewing & scoring records, the process of creating and curating a music festival, and much more.
(Listen Now)
May 5, 2014
Jake Nickell is the founder & CEO of Threadless, one of the most unique success stories of the internet age. In episode 15, Jake joins Chuck to talk about Threadless' humble beginnings in 2000 as a fun side project to its rapid rise as one of the most well known and most loved communities on the web, the many other projects he has started over the years - successes and failures included, the fun and not-so-fun sides of being in charge of it all, and much more.
(Listen Now)
Apr 23, 2014
On Episode 14, Chuck is joined by designer & creative director Justin Thomas Kay. Originally from Milwaukee, currently in NYC, Justin has been designer or creative director for some of the most well-known publications in the world such as Complex, New York Magazine, and The FADER among others but now spends his time at one of the most exciting design studios around today, Doubleday & Cartwright. In addition to his passion for design, Justin isn't shy about the importance of taking care of your body and mind through good eating and exercise. Check out his paleo diet blog NoGrainsNoMasters.com for the motivational proof.
(Listen Now)
Apr 1, 2014
Justin Maller is an Australian born, Brooklyn, NY based illustrator & designer. Justin joins Chuck in episode 13 to talk about how they've known each other for over 12 years, the NBA, the early days of design on the internet, Justin's many projects including his collaborations and one-design-a-day-for-365-days project 'Facets', among lots of other things. A very fun one and the first Australian accent ever on Life + Limb. Enjoy.
(Listen Now)
Mar 11, 2014
Nigel Evan Dennis is a creative jack-of-all-trades; a talented musician, artist, and designer. Friends since high school, Nigel joins Chuck to talk about his musical upbringing, early influences both sonically & visually, the not-so-glamorous early days of his design career to the jam-packed client list he's built, and creating exhaustive, admittedly obsessive personal projects for complex TV shows such as 'Game of Thrones' and 'True Detective' which have led to widespread acclaim and interactions with the shows stars and creators.
(Listen Now)
Older Episodes...